We've all been there, waiting for days, even weeks, and getting frustrated because our Amazon package was not delivered on time. So, here are some answers to FAQs that may help you find a solution to your problem.
Amazon Missing Package: What's Going On?
1. What if My Amazon Package Never Arrived?
Even though Amazon tries to minimize its mistakes, you might have heard complaints from people who never received their Amazon package. This is a very serious issue, because it breaks the trust between the customers and the company and causes customers to lose money.
There are several reasons why you didn't receive your Amazon package:
The shipping address was incorrect.
The package was damaged during transit.
The package was delivered to the wrong address.
The package was stolen.
Amazon lost the package.
If this happens, you can contact Amazon, who will help locate your package or refund your money.
2. How to Tell Amazon That a Package Was Not Delivered
To make a claim and contact Amazon about a missing package, go to Amazon's website, then to "Accounts and Lists" > "Your Account" > "Your Orders." Once you find the order you want to claim against, click on "File/View Claim" and fill in all the necessary information.
You must file A-to-Z claims within 90 days of the estimated delivery date.
3. What to Do if Amazon Package Says "Delivered" but It's Not Here
You've probably been in the situation where Amazon says "delivered," but there's no package. Here are the steps you should take if you can't find your package:
Confirm the shipping address in "Your Orders."
Search for notification of attempted delivery.
Look around the area where your package should be delivered.
Make sure that no one else accepted your delivery.
Check your mailbox or the place where you receive mail.
Wait until the end of the day. Sometimes, a backlog can delay the Amazon delivery until later in the day.
Wait 48 hours—in some cases, packages may be marked as "delivered" up to 48 hours before arrival.
If your package hasn't arrived more than 48 hours after expected delivery, you can contact Amazon and ask for help.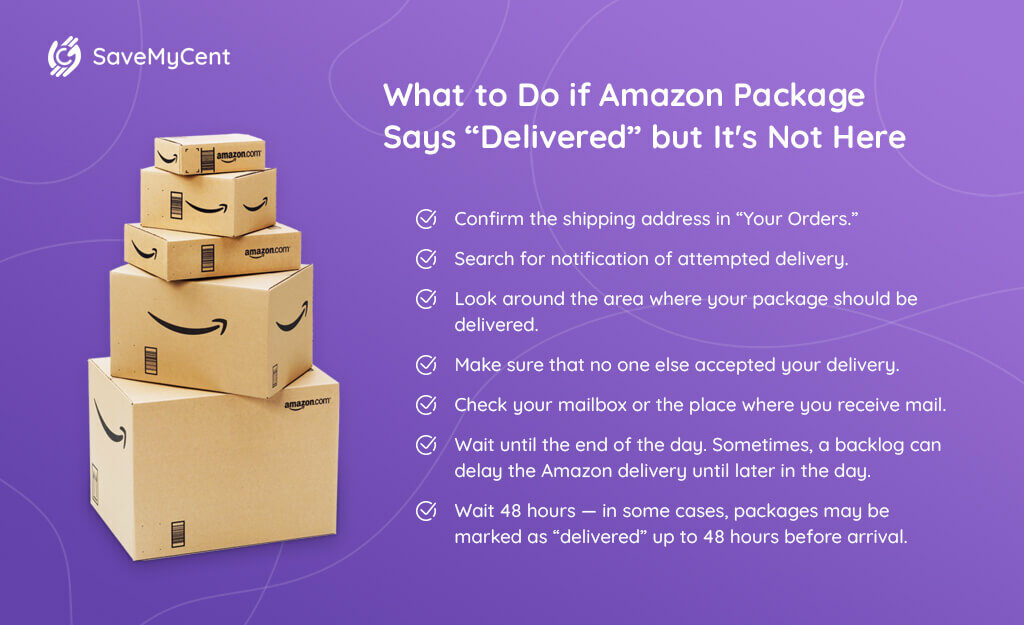 4. Amazon Shipping Delays
On the official website, there's no direct information about compensation in the event of Amazon delays. The company only suggests you'll get a refund on your shipping fees.
In past years, any Amazon Prime subscriber who didn't get delivery within two days on a two-day shipment or within the time Amazon specified qualified for one free month of Amazon Prime. The free month was usually tacked on at the end of the term, so subscription end dates are extended by one month.
Learn more about the Amazon Prime membership program.
To get more information about Amazon Prime late delivery compensation, you should contact Amazon's customer service.
5. Amazon Package Never Arrived: Do I Get a Refund?
You should contact Amazon to ask about a refund.
Log in to Amazon and go to "Help" > "Browse Help Topics" > "Need More Help" > "Contact Us." You can speak via a bot or phone and explain your issue to the rep. Amazon will investigate the case, and the company will issue a refund if your claim is genuine.
6. What Are Undeliverable Amazon Packages?
There are several reasons why an Amazon package is considered undeliverable:
The address is incorrect or outdated.
Amazon's system doesn't recognize the way an address was written.
You used a restricted address, such as a prison, correctional facility, or other similar institution.
The carrier tried to deliver but failed.
The recipient refused to accept the delivery.
The address was unreadable.
The package got damaged in transit.
7. Why Hasn't My Amazon Order Shipped?
There are a few possible reasons why the delivery date keeps changing or your order is marked "Shipping Soon." The most common one is that the address was entered incorrectly. So, make sure you always double-check it before finalizing an order. Another reason could be that the item is too large to deliver to a PO Box or a Pickup Location.
If neither is true for your situation, contact customer service and ask for help.
8. What Happens to Undelivered Amazon Packages?
If an Amazon package can't be delivered to the address you provided, it's returned to Amazon's warehouse. If this happens, you'll get an email notification from Amazon.
If the item remains unclaimed in the Amazon warehouse, anyone can buy it through several websites. This is a bit of a gamble, as you don't know the item's condition, and, in some cases, you may end up with a flawed item.
Amazon Package Not Delivered: Parting Words
We hope this article helped you and that you will get a refund or replacement for every missing Amazon package. We know that sometimes things can go wrong, but Amazon will likely make sure that your issue is resolved.
If you have any concerns or questions, contact Amazon's customer service, and the company will give its best to help you.